ABOUT SIP
We're a very new company made up of three people. Each of us has many years of experience in constructing in SIP and before our days in using it we have a variety of skills within the building industry. With this collective and wealth of experience in construction it obvious to see that the standard of work that leaves the factory is paramount.
Our services include the manufacture of all SIP's to provide a modular build to site. This also goes further with taking on the work from the design stage (planning & building control), Structural calculations, and providing ALL materials to finish your project to the, what's referred to the 'turn-key' stage. We can be as involved as much or as little with any project as you would see fit.
As well as offering a supply service, we also offer a service to fit the SIP's with many experienced fitters being involved within the company. We are open to show any new users of SIP's, how to construct with them and lead those through the entire construction process.
SIP information
Building regulations are forever changing, particularly in Part L (conservation of energy).
New properties have to conform to standards set by these and when building, it should be considered that they're only going to become more stringent. Properties are now sold with a rating of there energy costs over use and time, and with this in mind, we should look to build with extra measures.
The current permissible U-Vales in Part L of Building regulations are as represented in the table below.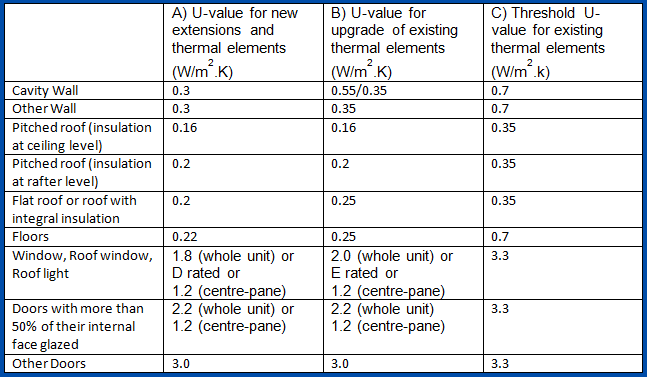 It's very apparent to see how much heat conservation has changed just by comparing the first and last columns on the above table.
SIP's can provide more than adequate insulation properties, not only for todays standards, but for future standards to come. This leaves a good safety net for your energy rating when selling up years later.
The table below illustrates the thermal cababilities of these panels in relation to their thickness.

It's recognised that SIP's can provide more than enough thermal capacity by chosing carefully where to use the right panels in the right areas. Although it's usually common place to see the same thickness of panel used throughout a build.